Service Philosophy - "Moving with Pride"
About Us – Highland Moving & Storage –  Started as a one truck cartage company 1938 by Peter Kachur, Highland Moving has expanded into one of the most respected moving companies in Canada.
Since the start, Highland Moving has grown into one of Alberta's best known and respected movers. While remaining under the same family ownership values, Highland Moving has seen a lot of changes since operations began.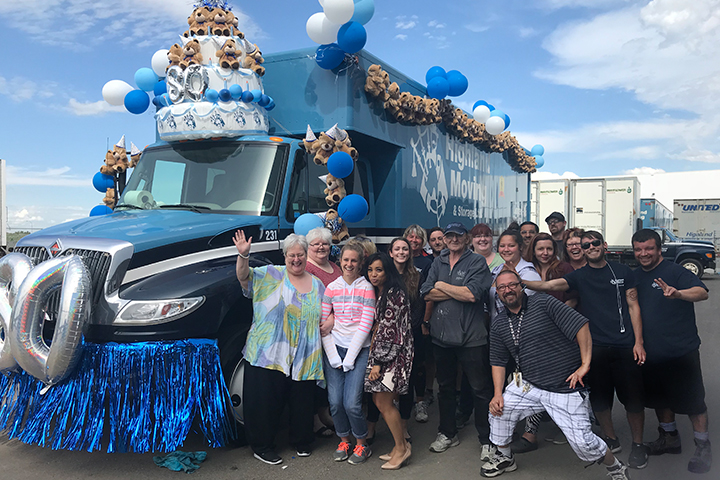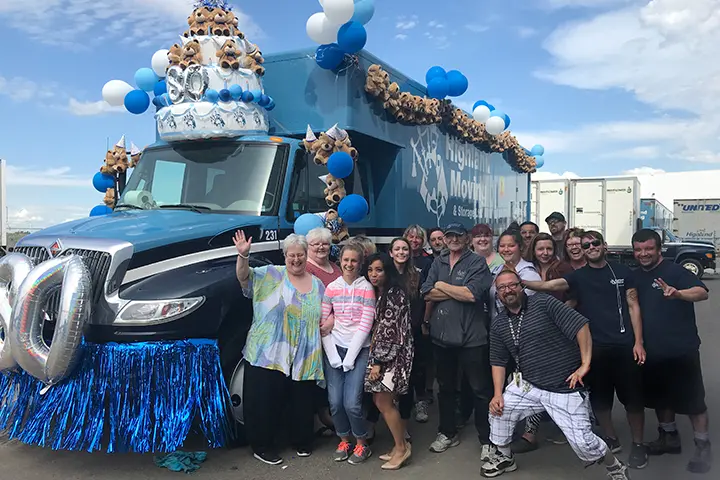 One thing that has remained unchanged over the years is our service philosophy – one that encourages each employee to take personal pride in their work and celebrates outstanding customer service. As long as we maintain this tradition of excellence, we can exceed our customers' expectations on each and every move.
This philosophy of employee self-esteem has been formalized in our quality service program, "Moving with Pride".
Highland Moving Is A Relocation Expert
Make Relocation a Breeze With Minimal Lost Time
Whether you are moving across the city, or the country, Highland Moving and Storage is here to help. By providing families with the best relocation experts and services available, Highland makes relocation a breeze and minimizes lost executive time. Highland Moving and Storage's relocation program is used by many of Alberta's largest companies.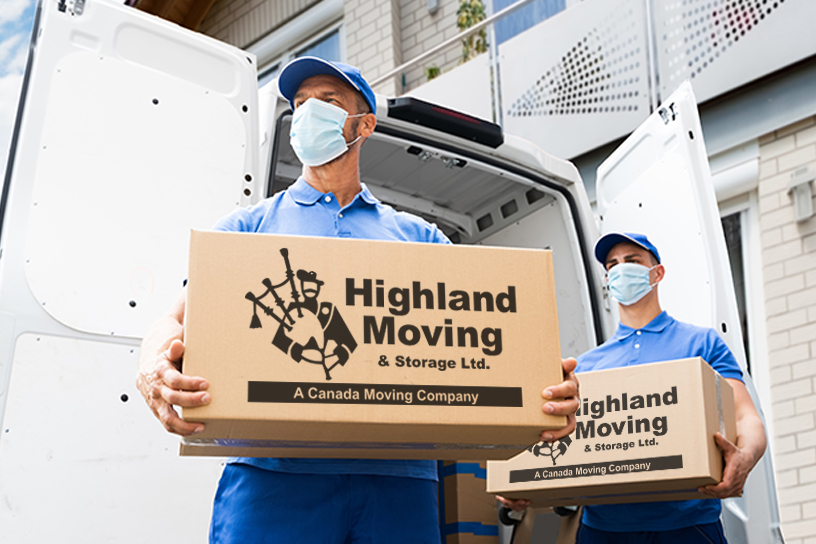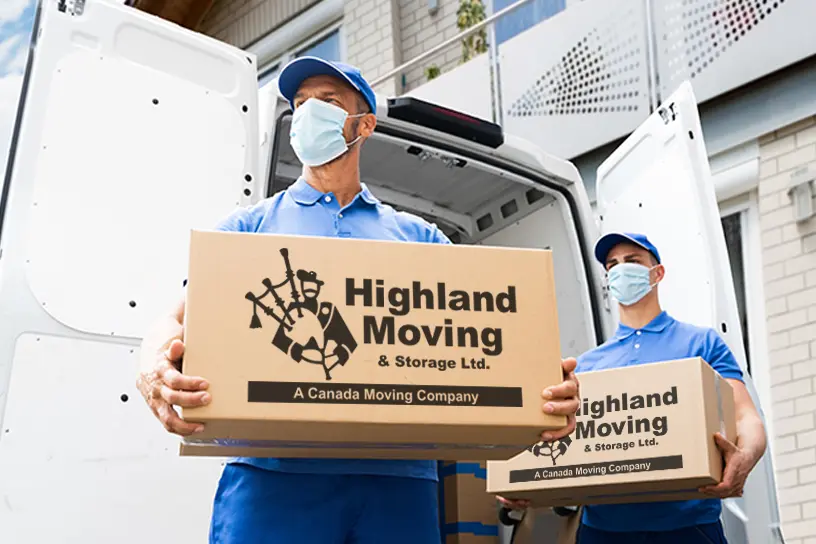 Over a Century of Service - Canada's Largest Family Owned Moving Company
As Canada's largest family owned moving company, Highland Moving puts our experience to work for you. Founded in 1890, Highland Moving and Storage a Canada Moving company has the experience and track record moving families and businesses across cities, the country and around the world.
A Canadian Owned Business In Its 5th Generation
In 2017 Highland Moving joined Canada Moving Inc. A Canadian family owned business operated by its 4th generation while the 5th generation prepares to continue the traditions of both family companies. The hands-on management style ensures you of the prompt, personal service that has been the hallmark of Highland for generations.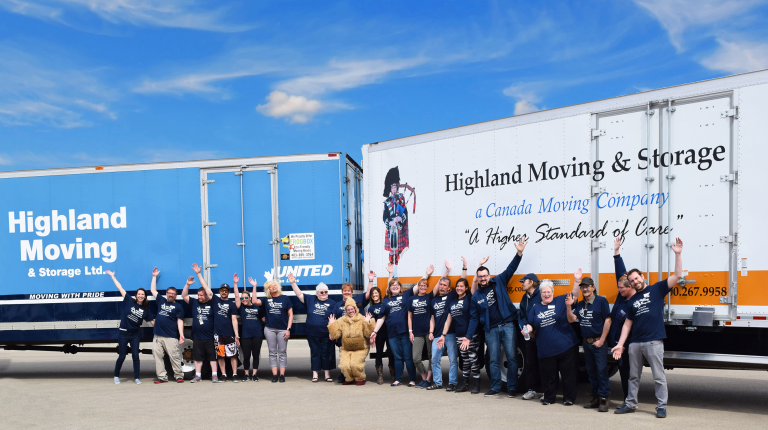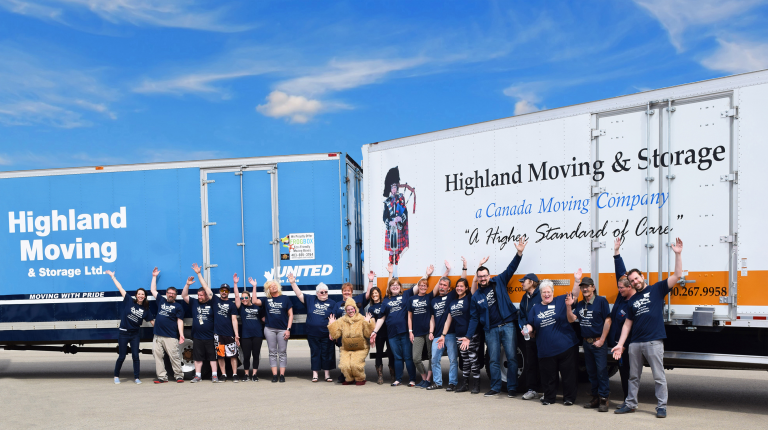 Choose The Best Recognized And Reliable Moving Company
Highland is recognized as one of the best, most reliable moving companies, and an industry leader. Why choose Highland Moving? When you choose Highland you are choosing the best moving company.
Service Philosophy: "Moving with Pride" sums up our corporate culture. An attitude of "pride of workmanship" is instilled in our employees and this is reflected in our outstanding service record to individual customers and corporate clients.
Reliability/Stability: The fact that we have remained under the same family ownership since 1938 speaks for itself. Locally owned companies consistently outperform branch operations in the moving industry. The Highland teams are part of the community and we take pride in maintaining the reputation that we have developed over the last 83 years.
Customer Service / Move Management Software: ReloVision is an all encompassing customer service software program which ensures prompt and efficient moving services for our clients. ReloVision was developed by Highland staff and introduced the relocation industry to the concept of move management software. This system ensures consistent business processes are executed on every move and corporate relocation and allows us to manage a very large volume of worldwide business.
Satellite/Cellular Vehicle Tracking: Our vehicles are equipped with state of the art GPS tracking systems which can pin point vehicles and forecast accurate arrival times.
Customs Bonded Warehouse Facilities: Our 45,000 square foot Calgary warehouse and 50,000 square foot Edmonton warehouse are both bonded warehouses approved for international shipments. Both facilities maintain high security, are climate controlled, pest controlled, alarmed, palletized and equipped with sprinklers.
Versatility: Highland Moving operates a number of specialized divisions and subsidiary companies to handle the most complex moving related needs of our clients. Starline Overseas specializes in international relocations and a separate division handles office moving.
Accessibility: All goods and services provided by Highland Moving and Storage Ltd. shall follow the principles of dignity, independence, integration and equal opportunity. For more information, Highland's Accessibility Policy.
Highland has assembled one of the most solid and experienced management teams in the moving industry.

Liam McQuillan
General Manager – Calgary, AB
Liam is the General Manager at the Highland Moving & Storage Ltd. branch in Calgary, AB. Liam began his career in the moving industry in 2006 at Campbell Brothers Movers Ltd. in London, ON., where he worked as a Van Foreman performing local, long distance, and commercial moves. In April of 2015, with the expansion of the Campbell Group to Alberta, Liam moved west to Calgary and worked in a variety of warehousing and operational positions before beginning his current role as General Manager in the fall of 2017. Liam strives to bring that front-line experience to his leadership role as a mentor to Highland's growing team. A graduate of SAIT Polytechnic, Liam is an avid sports fan and enjoys getting out on the water fishing whenever he can.

Cindy Clarke 
General Manager – Edmonton, AB
As General Manager Cindy is responsible for Highland's processes and procedures and is the senior contact for all service related issues. Having spent over 26 years of her career in various positions with Highland, combined with her information technology responsibilities, Cindy has a unique understanding of what is required in a successful move management software program. Cindy has been instrumental in the development and implementation of Relovision, Highland's proprietary move management software. As well as several professional development courses Cindy holds a delphi programming certificate from NAIT.
Quality Process - customer service and monitoring program
Highland has several service philosophies that are an essential part of our corporate culture. Since our movers are unsupervised on job sites, we must focus on encouraging our team to take personal pride in doing an excellent job. Together, we monitor performance on a daily basis and provide rewards for excellent results. Corporately, we match our employee expectations with a company commitment to this philosophy by providing them with clean, safe vehicles, state of the art moving equipment, clear communications and professional office environments.
Highland has a comprehensive customer service and monitoring program:
Incentives based on excellent service ratings
Contests with rewards focusing on specific "problem areas"
Annual awards recognizing drivers for their service levels
Daily communication of customer service responses
Technology enhancing service and communication
Forecasting and computer assisted load planning
Traditional Moving Service – one dedicated crew
Ongoing training
Customer satisfaction surveys
Industry Leading Employee Training Programs
Highland Moving and Storage Ltd. is recognized as one of the best and most reliable moving companies in Western Canada. We are an industry leader due to our extensive employee training program that each team member completes.
Our Highland employee training program focuses on the following aspects:
Document Training
Importance of Customer Service
The Cycle of a Move
Principles of Packing & Unpacking
Principles of Loading & Unloading
Proper Protection & Handling of Furniture and Goods
Health & Safety Procedures
Warehousing & Storage Procedures
Driver Safety & Responsibilities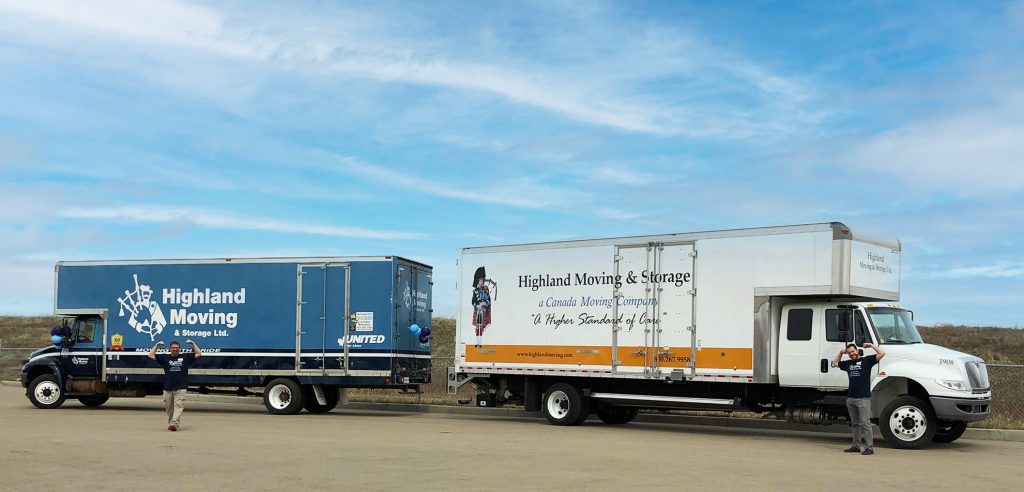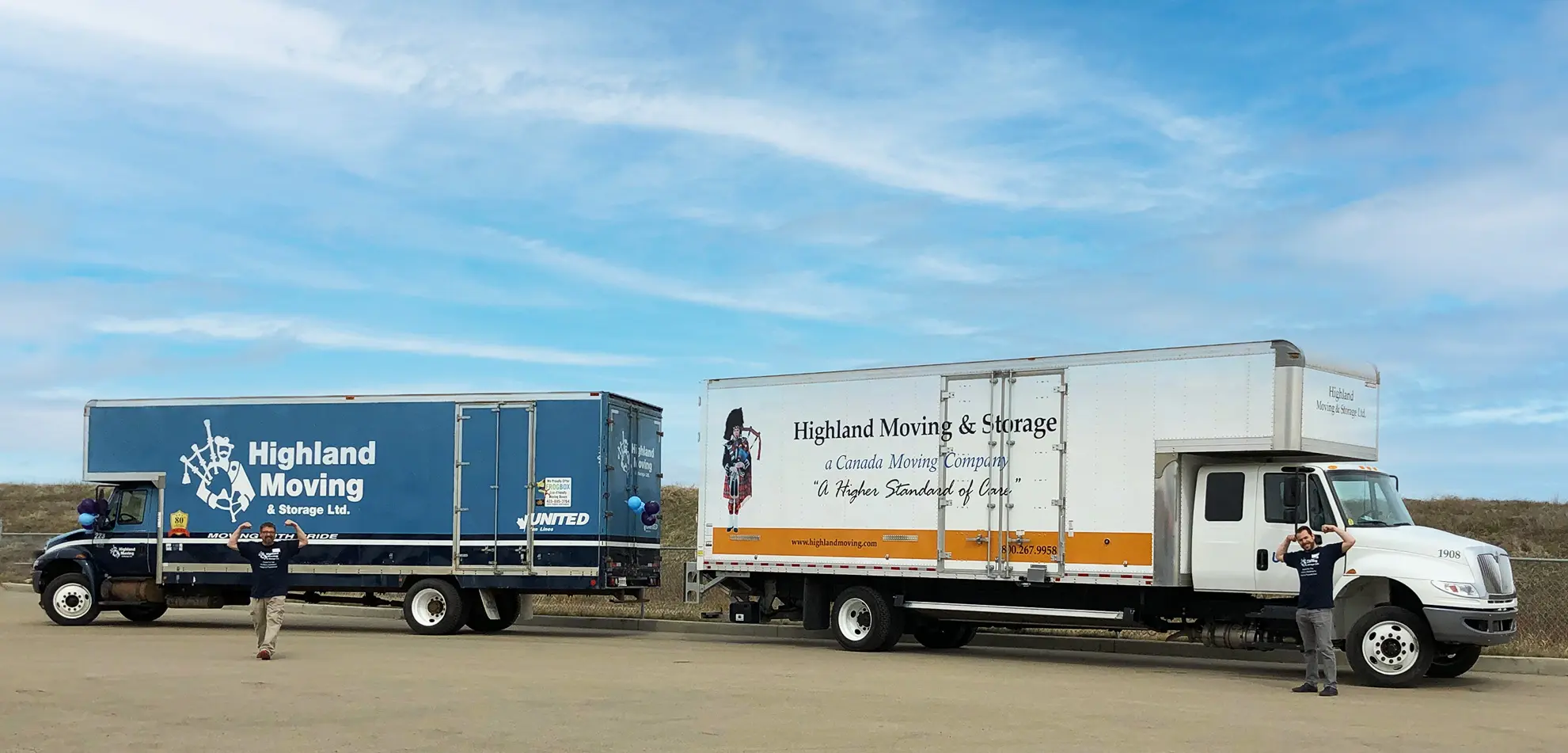 Thinking about Joining Highland's Team
Highland Moving maintains a commitment to hire the very best people. Our goal is to provide exceptional service. Our teams of movers and moving staff are outstanding, intelligent, experienced and well-trained. We choose individuals for moving careers because of their experience and potential, and especially because of their ability to service our customers in a professional manner. We believe our team deserves a pleasant, appreciative work environment and Highland's corporate culture reflects this. When you apply for a moving job and begin employment with Highland Moving, you become part of one of the finest moving service organizations in Canada.
Highland Moving Jobs & Careers
Thinking about moving to Alberta to join our team? Email us your resume to jobs@highlandmoving.com
To find out more information regarding available moving positions and to apply, contact us in Edmonton at 780.453.6777 and in Calgary at 403.720.3222.
How Highland Moving Continues To Go Green
Customers Can Complete Their Own Online Moving Inventory
Highland built an online household inventory program called MovesOnline. This allows customers to complete their own inventory in the comfort of their own home, cutting back on the requirement and costs of having a large outside sales team.
Maximizing Load Sizes to Reduce Emissions
Our Operations department prides itself on working to maximize loads to use up as much space in the trailer as possible. This helps to reduce number of trips and empty miles.
Satellite GPS Tracking and Managing Fuel Economy
We have installed Satellite GPS systems in our trucks that do a number of things. Most notably, they alert the driver and dispatch when the truck has been idling for 10 minutes. Our dispatchers are also able to monitor the speed that each truck is travelling at, and can contact the driver to manage fuel economy.
Renting Reusable Plastic Boxes
One of our biggest initiatives is the partnership with Frogbox Calgary in 2012. Frogbox offers the rental of recycled, reusable plastic boxes as an alternative to cardboard boxes. Frogbox is a well established brand in Canada and we are very proud to represent the brand in Calgary and surrounding area.